custom eCommerce Development
Launching a new brand
Custom eCommerce development isn't just useful as a digital storefront. It's also a channel for directly engaging with your audience as you launch a new brand. Here's how:
Merging Branding and Functionality
Right from the logo, color schemes, to the user interface, every aspect of your eCommerce web or mobile app can resonate with what your brand stands for and ensure a coherent user experience. Perhaps your new brand launch requires extending your existing brand (or creating a new brand altogether) to better fit a new customer population
Harnessing First Party Data
Every interaction and purchase made on your website or app is a data point that contributes to a deeper understanding of your market and customer preferences, aiding in refining strategies for pricing, marketing, and future product launches.
Showcasing Product Variety
Custom eCommerce development provides a platform for presenting your diverse product range in a way that is intuitive and enticing to your audience - and free from the spatial constraints of a physical store.
Integrating Modern Technology
Custom eCommerce development allows you to integrate innovative technologies seamlessly, whether it's a virtual try-on feature through AR or personalized recommendations through AI.
Amplifying Awareness
With the aid of push notifications, social media integrations, and email marketing, every launch becomes an event and an opportunity for greater awareness and engagement.
Speed with Precision
A dedicated retail app empowers you with the agility to swiftly respond to market trends, customer feedback, and competitive dynamics
Love what you find
We helped video commerce behemoth, QVC, with the strategy, design and development of a new app-based brand to grow their Gen Z customer base. We launched this platform within 4 months.
View Case Study
Creating An App
Almost half of all eCommerce purchases are expected to be made through a mobile app or device. And beyond your bottom line, working with an eCommerce app development company to build a retail app can benefit your business in the following ways: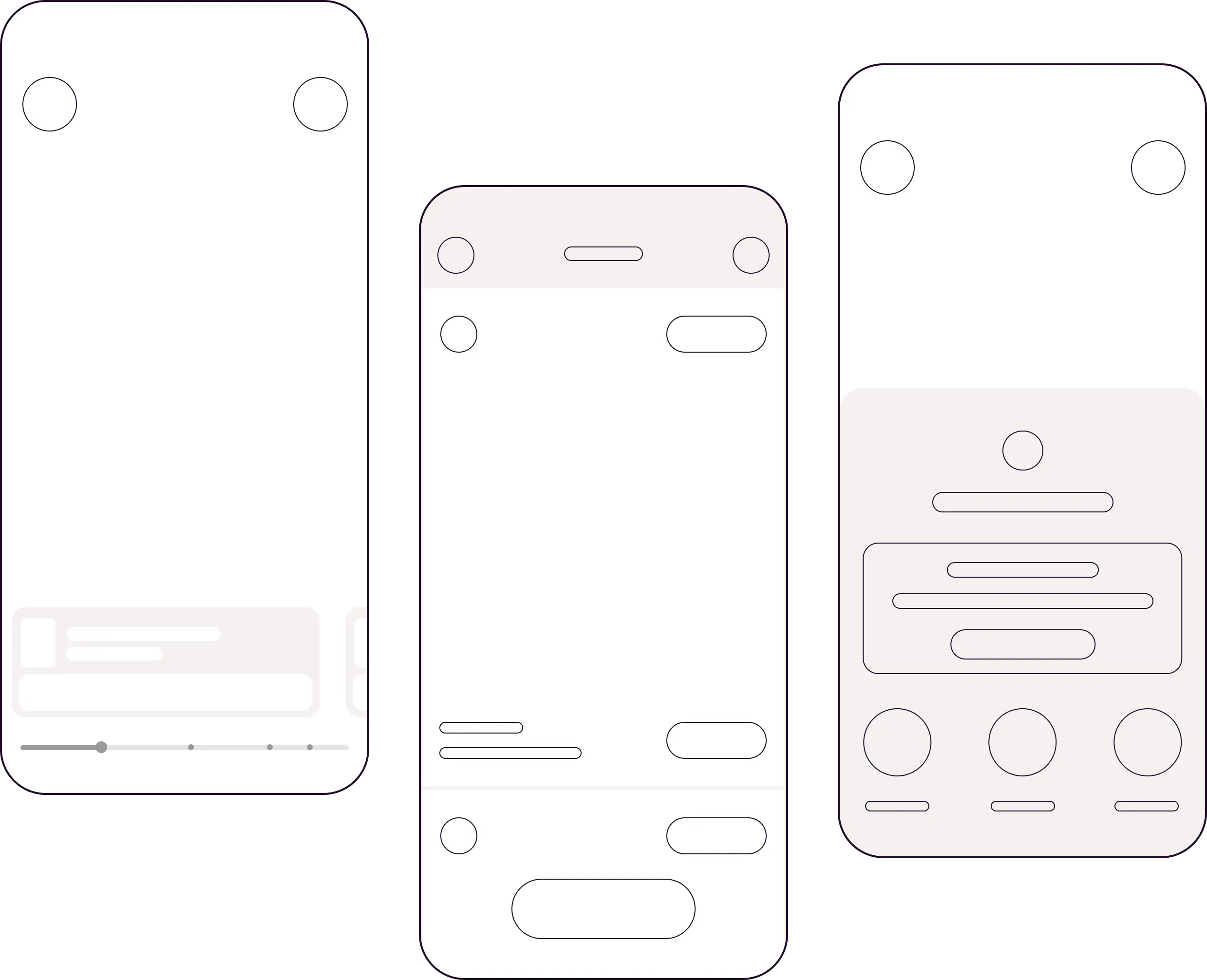 Wider Audience Reach
eCommerce app development lets you reach a diverse clientele without the constraints of time zones or geographic distance.
Loyalty Cultivation
Embed loyalty programs within your app - think coupons, promo codes and point systems - to cultivate a community of brand advocates.
Behavioral Analytics
Harness behavioral data to tailor offerings, enhancing customer satisfaction and retention.
Seamless Integrations
A custom eCommerce app can be seamlessly integrated with your existing POS, ERP, or any other essential systems, ensuring operational continuity.
Competence over Competition
Differentiation is key, and a bespoke retail app is your ticket to standing apart, offering value that is unique and personalized.
Serving coffee and culture
We created a custom loyalty platform for use on web and mobile along with re-development of the website and apps of this coffee retailer. This new platform helped increase repeat order by 15%.
View Case Study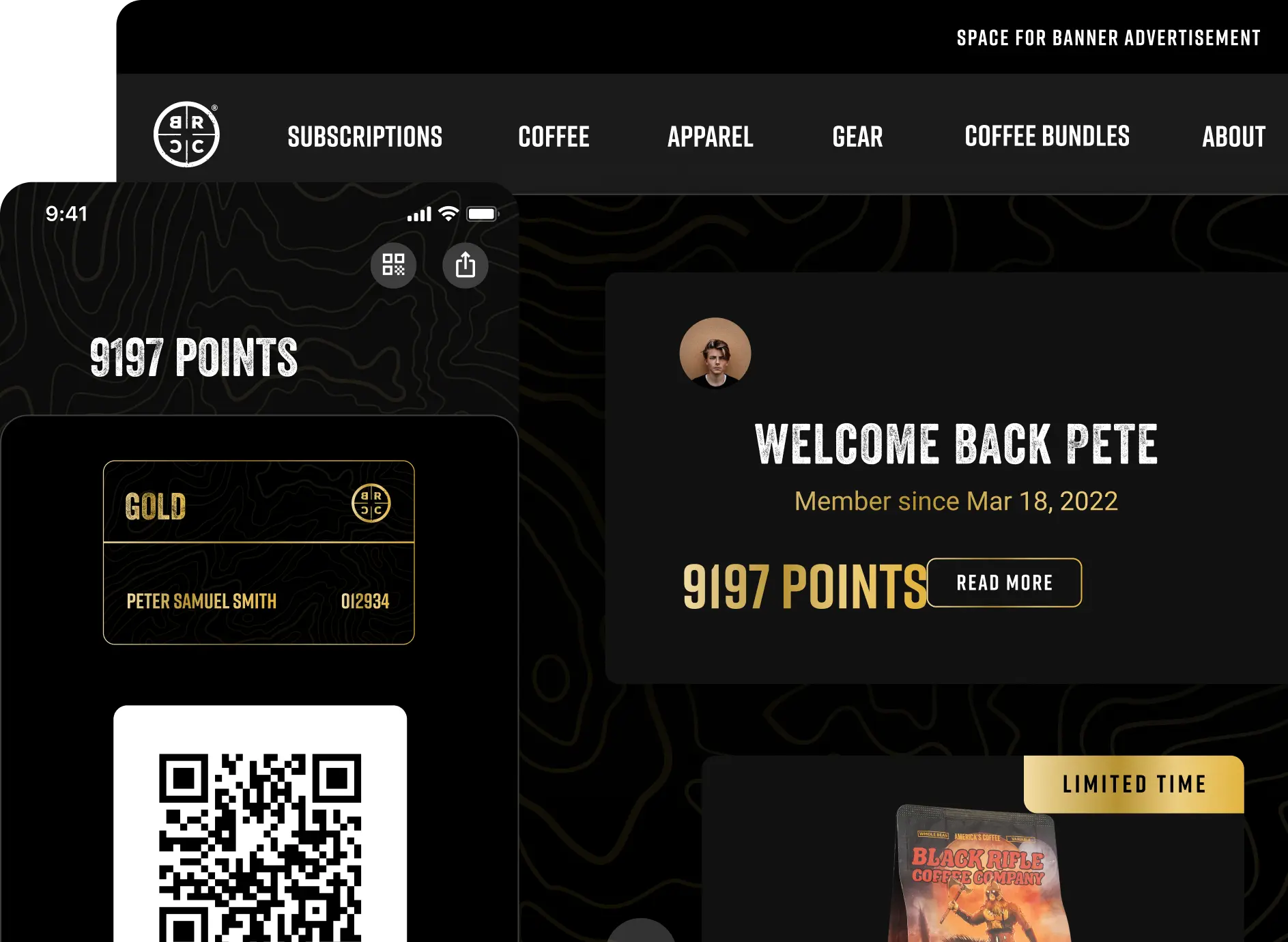 Improving a Website or App
Transitioning your existing website or app into a more robust eCommerce platform can significantly uplift your retail business. Here's a direct look into how that works:
Technology Integration
Modern technologies like iBeacons, Augmented Reality, and Virtual Reality can be seamlessly integrated to enrich user interaction and engagement, like AR letting users virtually try products and iBeacons providing personalized in-store experiences.
Social Commerce Insights
Create a more interactive shopping experience by integrating capabilities for live video sales and seamless product additions to the cart.
Advanced APIs
Incorporating APIs for secure payments, shipping, marketing automation, and customer analytics is a fast-track to enhancing operational efficiency. 
Continued Performance Optimization
Employ tools to continually scan and optimize your website and/or app for performance and security, ensuring a quality-oriented and reliable user experience.
Focused eCommerce Features
Through eCommerce app development, you can integrate core features like a well-structured catalog, intuitive shopping cart, streamlined checkout processes, and a compelling storefront.
By women, for women
When women's apparel brand alice + olivia sought out an eCommerce app development company to help them launch a new live video shopping experience, our team built an app that resulted in an average of 25% of live video event attendees making purchases by the end of the events.
View Case Study
Moving From Off-The-Shelf To Custom
Shifting from a generic, off-the-shelf solution to pursue custom eCommerce app development paves the way for a digital footprint tailored to your brand's essence. Here are a few of the advantages of custom retail app development:
Unrivaled Control
Custom eCommerce app development empowers you with real-time adaptability to align with your retail strategies. Your decisions drive the journey from design to launch.
Integrated Operations
Custom eCommerce apps meld seamlessly with your existing systems, like inventory management, CRM, or payment gateways.
Adaptive Scalability
Retail app flexibility allows for effortless scaling or refinement in response to market shifts or product line expansions, unlike the constraints of fixed off-the-shelf solutions.
Swift Performance
Shed the weight of redundant features common in off-the-shelf solutions. Custom eCommerce app development is lean and purpose-driven, ensuring rapid page loads and a responsive user experience.
Distinctive Branding
A custom app lets you align personalized layouts and intuitive features with your distinct brand values that differentiate you in a competitive market.
Long-term Value
The enduring benefits of a custom retail app are substantial for nurturing long-term customer loyalty, gaining a competitive advantage, and propelling brand growth.
The Fahlo team approached us to help them shift from an off-the-shelf Shopify-based ecommerce experience to a headless front-end still powered by a Shopify back-end. Fahlo had reached the limits of their off-the-shelf implementation after tens of millions of dollars in online sales of their animal tracking bracelets. They knew they were leaving money on the table without improvements to the user experience via custom front-end strategy, design and development.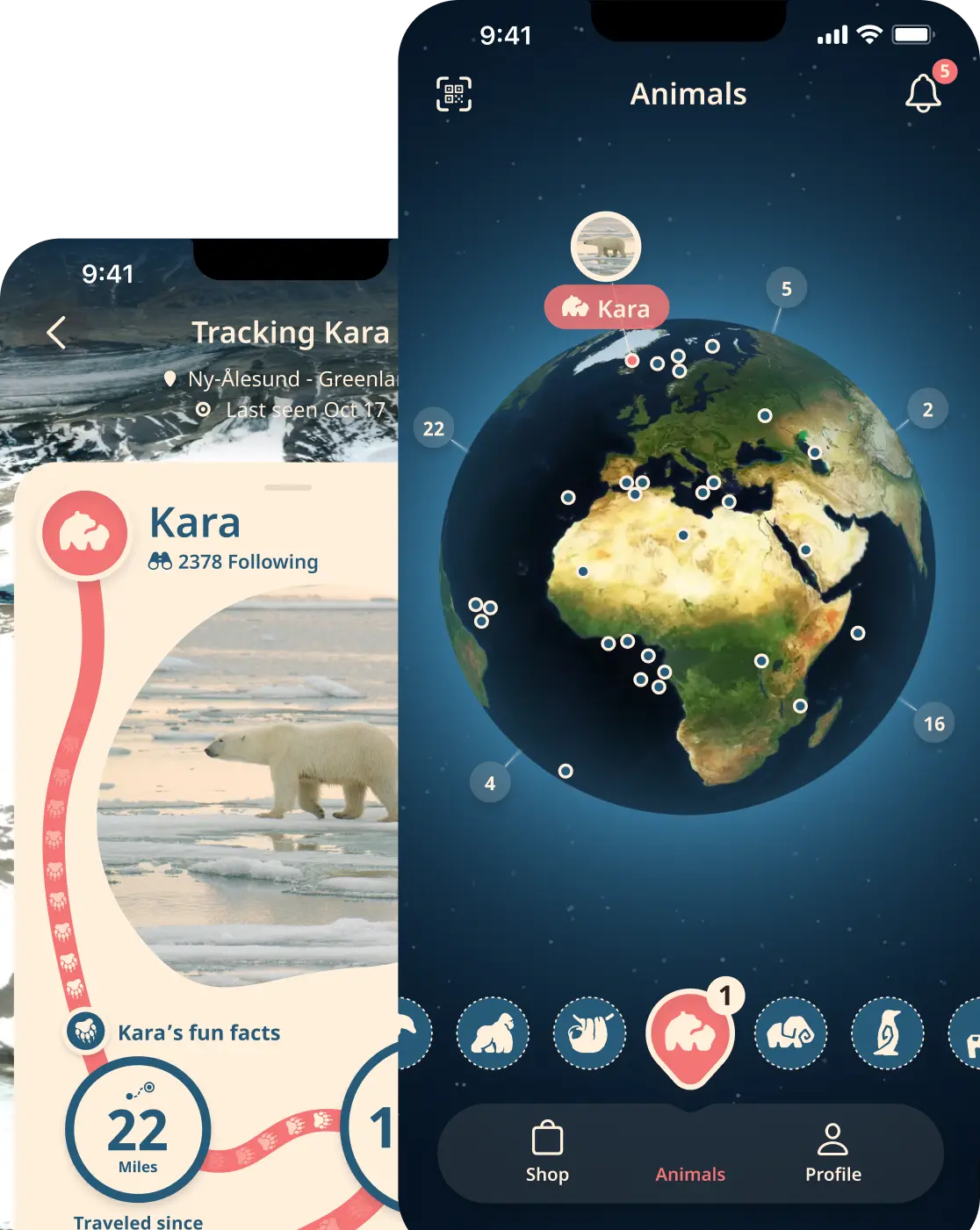 Replatforming
As your retail business grows, your initial eCommerce platform could fail to rise to the new challenges and goals. But replatforming, backed by custom eCommerce app development, helps scale with your brand while maintaining core values:
Performance Enhancement
Replatforming addresses lag issues and enhances page load times, which is essential when approximately 40% of shoppers abandon a site if it doesn't load within 3 seconds.
Customization Unleashed
Custom eCommerce app development lets you harness an entirely unique brand presentation and functionality, ensuring your platform is a true reflection of your brand.
Maintenance Easing
Shift the burden of time-consuming and costly maintenance by embracing a platform that demands less upkeep and frees up your team for other crucial tasks.
Security Strengthening
Amplify security features to protect your online retail store against threats, ensuring a safe shopping environment.
Integration Smoothness
Migrate to a platform that supports seamless integration of essential third-party tools, enhancing operational efficiency and reducing integration snags.
Scalability
Custom eCommerce app development ensures a scalable solution that's ready to evolve with your growing business needs and market dynamics.
Making Use of AI & ML
An eCommerce app development company that can help you integrate Artificial Intelligence (AI) and Machine Learning (ML) in your app means getting to take advantage of actionable insights, improved operational efficiency, and elevated customer engagement. Here are a few more benefits:
Precision in Demand Forecasting
Utilize AI to refine demand forecasts, ensuring your inventory levels are optimized to consumer demand curves.
Optimized Pricing Strategies
Leverage ML in eCommerce app development to analyze market trends and consumer behavior so you can create dynamic pricing strategies that maximize profitability.
Enhanced Customer Experiences
From smart fitting rooms to real-time personalized offers, give your customers interactive and personalized shopping experiences they'll love.
Automated Customer Service
Deploy AI-powered chatbots and virtual assistants to handle customer queries effectively and efficiently for an uninterrupted customer service experience.
Real-Time Analytics and Insights
Derive real-time insights from a wide variety of data points to understand customer behaviors, preferences, and purchasing patterns - helping you make data-driven decisions.
Robust Security Measures
Utilizing AI in eCommerce app development can enhance security protocols, ensuring a safe and secure shopping environment both online and offline.
Instantly shoppable video
We created the Refer platform to allow Shopify retailers to connect their inventory, create shoppable videos and distribute shoppable links via all their communication channels. Refer's shoppable videos use AI to convert 4.3% of video watchers to paying customers (vs. Tiktok's 1.1%).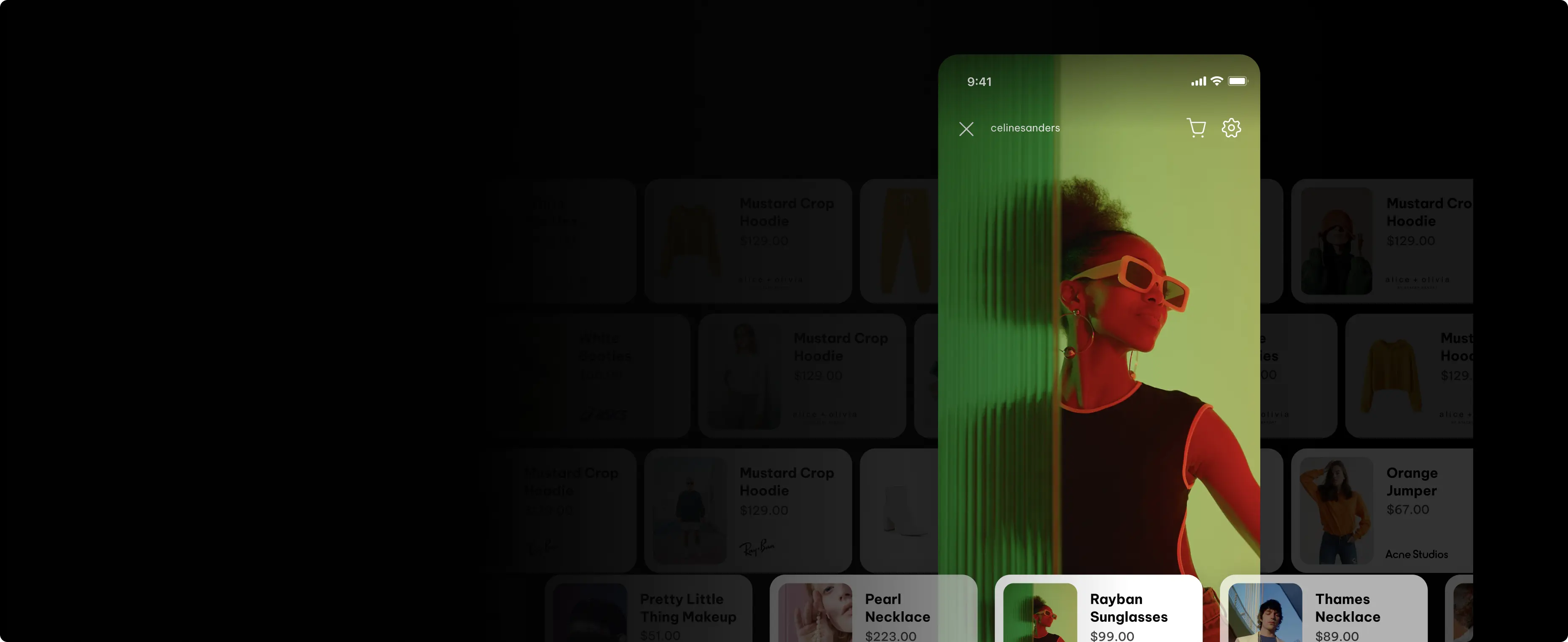 Making Use of AR/VR
The integration of Augmented Reality (AR) and Virtual Reality (VR) in retail bridges the gap between digital convenience and in-store engagement. Here are six benefits to leveraging it through eCommerce app development:
Enhanced Customer Engagement
Virtual try-ons and interactive 3D advertisements provide a tactile online shopping experience, mimicking the in-store feel.
Insightful Product Information
Offer real-time, AR-enhanced product information in-app, enriching the shopping experience with detailed product insights.
Efficient Inventory Management
AR aids in precise warehouse navigation and real-time inventory tracking to improve operational efficiency.
Seamless Omnichannel Experience
Integrating AR/VR in eCommerce app development ensures a unified shopping experience across online, in-app, and in-store platforms.
Virtual Storefronts and Showrooms
Extend your retail space into the digital realm in your eCommerce app, allowing customers to explore products in a virtual environment.
Making Use of Live Shopping
Live shopping is gaining traction, with this segment of the market anticipated to account for up to 20% of all eCommerce purchases by 2026. Partnering with an eCommerce app development company is a key part of integrating live shopping seamlessly into your retail strategy, leveraging real-time engagements to foster trust, and expedite conversions.
Real-Time Engagement
Custom retail apps enable real-time interactions during live shopping sessions, enhancing trust and brand affinity.
Enriched Shopping Experience
Integrating AR and VR in live sessions through custom eCommerce app development provides an immersive shopping experience.
Personalized Shopping Sessions
Offering one-to-one live shopping sessions through custom apps facilitates personalized and exclusive shopping experiences - this is especially beneficial for luxury or high-end products.
Accelerated Conversions
The immediate and exclusive offers you can make available in-app through live shopping create a sense of urgency and significantly boost conversion rates.
Broadened Audience Reach 
Leveraging social commerce platforms with integrated live shopping features in your custom retail app extends reach and attracts a wider, tech-savvy audience.
Online shopping, reimagined
For years, countless retailers have struggled to build video solutions from scratch. LIVE is a better, faster way to customize and deploy video infrastructure on your own platform. With just six lines of code, LIVE allows retailers to engage their communities, increase conversion rates, and drive incremental sales with beautiful, shoppable, interactive video. An average of 25% of live shopping event viewers make a purchase during the event via the LIVE platform.
View Case Study
"Studio's design and development capabilities are the best in the biz! They are creative, hard working, organized and extremely detail oriented. They finished every project on time and on budget and I would consider it an honor to work with them again in the future."
"Studio accelerated our development efforts and delivered a high quality product to market faster. They were collaborative with our product and design teams, great communicators, and guided prioritization to ensure we built features that resonate with users most."
"Simply put, we needed a great teammate to take us to the next level and Studio was just that. With significant and varied experience designing and developing for the current state of mobile, they are smart A players in their respective areas of expertise."
"Working with Studio has exceeded all of our expectations. They have blown us away at every turn with their diligent work ethic, unique point of view, and adaptability. We feel so grateful to have met Studio early on and to have them as part of our founding team."