The power of live shopping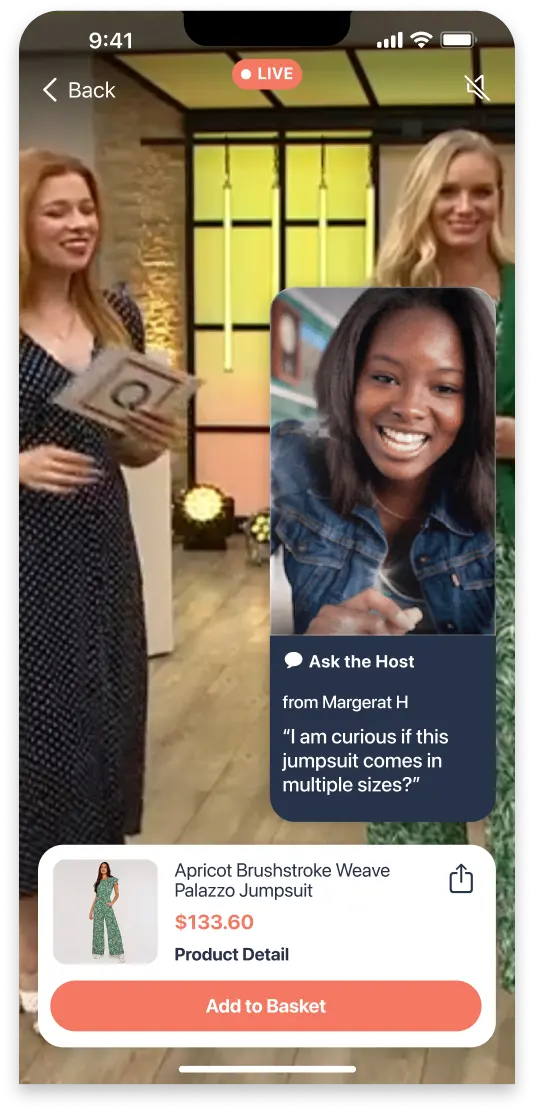 Our Project Goals
QVC is the pioneer of home shopping - a network dedicated to a content-first retail experience with an extremely loyal customer base.
Our challenge was to make QVC relevant to a new, younger consumer - millennial women. Through market research and product strategy, we developed a digital product that leans on short-form video content popular across social platforms, while enabling better brand, product, and content discovery for our users.
Market Research
At the start of strategy, we focused on understanding current shopping patterns:
Who We Spoke To
We spoke to millennial women, took a deep dive into their group chats, and reviewed how competitors marketed to them.
Browsing Habits
We learned that browsing does not always equate to a specific product search nor purchase, and that for many, habitual browsing was half the fun.
Most were hesitant to try a new brand because of sizing questions, quality concerns, ease of returns, or simply because it was hard to discover those brands.
The Solution
Our product design centers around an engaging feed that serves short form shoppable videos to entertain, aid in discovery, and gain trust amongst our users.
The content is curated to highlight expert hosts who help browsers discover more easily and feel more informed and inspired during the shopping experience.
Custom Lovelle Components
In-depth Asset Library
Video Shopping
Live With Hosts
Shop Top Brands
& Products
Speed to Discovery
Fast intuitive swipe-able shopping videos leverage the speed with which users are discovering and browsing products on platforms like TikTok and Instagram.
Portrait Content
Mobile optimized content keeps users browsing in portrait. Portrait-first content enables a desktop experience that allows for interactive shopping.
User and Host Interaction
With Ask a Host, allow viewers to "come on stage" and interact with the host and audience - harking back to the call-in era for QVC. User submitted questions can be reviewed and played back, creating community and connection.
Picture in Picture
Never Far from Entertainment.
Keep users close to the show with picture-in-picture. When they choose to explore a product keep their entertainment experience never more than a tap away.
Hosts as Communities
Create identities and styles with the hosts as focal points — the integration of the host-as-influencer focus for audiences seeking community and someone to trust.
Occasions as Evergreen Content
Users can browse and discover through traditional navigation, which highlights occasion-based and show- based product collections.
Social Validation
Users are empowered to share groups of products to seek critical social validation with quick save lists.
Wishlist for
Jessie's Wedding